If you already signed up to nexocams, go to your profile and edit your date of birth! Otherwise, your real age is visible to the public!
Nexocams and c4s
I just saw the new c4s promotion and thought "finally, they integrated the cam and social features that I have been waiting for". So, I took the time to sign up, which was a little strange because I used their link but still had to go through all the verification steps.
So it seems that it's not integrated into the c4s website at all.
I do think it's a brand of c4s itself, because they are normally super reluctant to promote anything aside from themselves. However, I don't get why you can sell videos. Well, at first I didn't get it. 70% on videos as opposed to 60% on c4s – what would prevent people from posting their clips on nexocams instead of c4s in the future?
Well, maybe it's a sort of future of c4s. Maybe c4s is too old to be completely renewed and nexocams is their project that is supposed to take over c4s in a few years. Just some thoughts, as I honestly did not have the time to do any research. So, really, just some thoughts of mine.
Why did I think these thoughts? Well, because as part of the ToS that you have to agree to, you also have to agree not to promote any competition. Being on c4s and nexocams, both platforms allowing video sales, I think it's impossible to not promote both to your fans. So you kinda have to ask yourself whether that rule is just ridiculous or whether or not c4s and nexocams are just part of the same company.
Update: I just found a tweet that Nexocams is "the groundbreaking Social Network & LiveCam Platform from Clips4Sale!" So it's confirmed.
There are some differences between c4s and nexocams, aside from the 10% increase in payout on nexocams. Nexocams has stricter rules. My content for example, would not be allowed on nexocams:
The following things, actual or implied, are forbidden on the Website:

Sexual relations with an unapproved model, even off-camera
Minors, children, or babies—must not be on camera or in the same room
Unauthorized persons or unregistered models (people who have not submitted their picture identification to the Company and been approved by the Company) on camera
Bestiality or animals/pets on camera in a sexual or provocative context
Urination, defecation, "going to the bathroom," enema play
Vomiting
Breastfeeding or lactation
Menstrual bleeding
Illegal drugs
Consumption of alcohol, medicines, or narcotics
Sleeping or passing out
Hypnosis
Rape
Incest or sexual contact between family members
Penetration of the vagina or anus with items not meant for sexual stimulation
Fisting
Violence, cutting, blood, torture, nonconsensual pain, erotic asphyxiation, or any actions associated with bringing injury or risk of injury
Escorting, prostitution, or solicitation
Illegal or unsafe activity of any kind
Anything that would impair consent
Actions that may be considered obscene in the Model's community
Have a good look at the ToS. Decide for yourself if you could use an account there. As I see it, nexocams is set up to be the future of c4s and has tighter rules so problems with certain content, like c4s had in the past, won't arise as easily with the new platform.
As most people don't ever read any ToS (after all, you have to sign them anyway), I cut some sections that you should know about.
Nexocams ToS snippets
Face on camera
The Model will keep the Model's face on camera, at least part of the time. The Model will not permanently hide the Model's face off camera, wear a mask, or only show the Model's face in private chat.
Performing on more than one website (Split-camming)
The Company does not prohibit the Model from performing on multiple websites at the same time. While the Company will not penalize the Model for split-camming, the Model may lose credits if the Company refunds credits to customers because split-camming caused poor video quality.
So, in contrast to c4s, you can not be completely anonymous on nexocams. However, there are make-up tricks and wigs that can obscure your face up to a point that it would be difficult to recognize you.
Use of Name and Likeness
The Model hereby grants the Company, its affiliates, and service providers the right to use the Model's name and likeness in any manner and in any media, throughout the world, at any time, for advertising and promotional purposes and for any other lawful purpose.
Basically, if your model name is your brand name, you lose exclusivity. That is just one of the conclusions you can pull from this rule.
License
The Model hereby grants the Company, its affiliates, and service providers, and each of their and the Company's respective licensees a perpetual, nonexclusive, sublicensable, transferrable, worldwide license to use, reproduce, modify, prepare derivative works of, publicly perform, publicly display, and distribute the Model Submissions through the Website in accordance with this agreement. This license includes the right to use the Model Submissions to promote and redistribute any part of the Website—and derivative works of it—in any media formats and through any media channels throughout the world. The Model hereby releases the Company for any acts or omissions regarding the publication, distribution, exploitation, alteration, modification, deletion, storage, or public performance of the Model Submissions.
I just put this in to make you aware of it. A license section more or less identical to this one is part of any ToS you sign in this business. Be it on any competition websites like IWC or manyvids, or sites like pornhub. They all cover themselves above and beyond what would be necessary. So they can basically do with your material whatever they want and you allowed it. Of course they say it's necessary to run their business, which is partly true, but also partly untrue. It's just a carte blanche. They could adjust this so they would only have these rights in connection with actually running their website, but it's easier for them to just get a general license to all your uploaded content to do with it whatever they want. Note that they "only" get a license to do whatever they want, they never "own" your material.
Display of trademarked material
The Model will not appear on camera wearing or displaying trademarks or logos. No logos or trademarks may be displayed on articles of clothing, in the background, or in any other way.
It's obviously a rule they need to make sure that there are no copyright conflicts coming up. I totally agree to respect copyrights and think it's a step in the right direction. After all, as producers, we are all more or less victims of piracy and should support anti-piracy.
Feedback
The Company encourages the Model to give feedback about the Company, the Website, or the Platform. But the Company will not treat as confidential any suggestion or idea the Model gives, and nothing in this agreement will restrict the Company's right to use, profit from, disclose, publish, or otherwise exploit any feedback, without payment to the Model.
We all give feedback because we want our work environment to get better, but if you hoped for a compensation for sharing a really good idea, sadly, there is none.
You now got a little impression of the ToS of nexocams. Basically, we producers have little rights in "this industry". The only thing that is keeping them from literally doing what they state they could, for example sell our content as if it were their own, since we grant them a license to reproduce and sell our content in any form, is their reputation.
If they would start messing with studios, sites like adult-income would write about it and they would have no chance of staying in business. They need the producers.
The referral program on nexocams
About the referral ID they refer to: It's sadly enough just a link to send to your own customers. You won't get any earnings from anyone buying from other producers. At this moment, it's unclear to me if a user has to create a new account through your link, or if existing users who used your referral link also qualify.
Normally, you get 40% cam commission and 70% from your social stream subscriptions and content purchases. If someone you referred buys from you, you get these rates: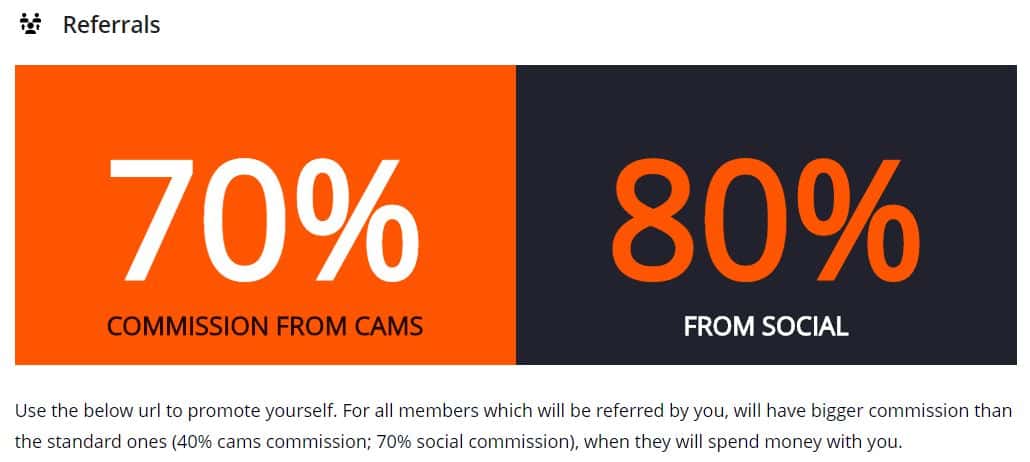 I do recommend using a site like this to get paid for social interaction and messaging. I have sent so many emails and messages over the past years. Had I been paid just a little for that, I would probably have doubled my income. However, it's up to you to agree to these ToS or not.
You should also know that nexocams is still in development. I am getting some 404 errors that I can't get back from and I can't look at the front page while I am logged in. Those are just two things I noticed when I briefly tried out the site. I think it will take a while until all the feedback is implemented and the site is working perfectly.
Another site that lets you get paid for interaction with your fans is onlyfans. I meant to write an article about them for months. However, I just checked their app reviews on google and it doesn't look too good. I sent them an email asking about these issues. No reply yet, but I will follow up.